Fume warning follows barn fire on Isle of Sheppey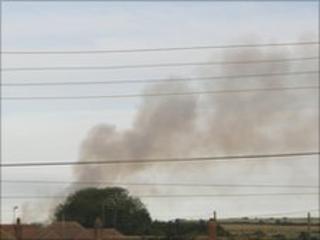 Residents in parts of the Isle of Sheppey have been urged to stay in their homes and close their windows following a serious fire at a barn.
About 100 firefighters are tackling the blaze in Leysdown Road which began at about 0245 BST on Sunday.
A 400m (1,310ft) exclusion zone has been set up around the site because the barn contains a potentially explosive chemical used in fertiliser.
The farmer's family and workers have been re-housed.
Kent Fire and Rescue Service has urged people in Leysdown and Eastchurch to close their windows and doors and stay inside.
'Ill affects'
The service said crews had moved a safe distance away from the barn, which contains 3,000 tonnes of hay, to allow the blaze to burn out under controlled conditions.
A spokeswoman for Kent Fire and Rescue Service said: "Members of the public are being advised that the smoke fumes could cause irritation, hence the need for people in the area to stay indoors.
"Any ill affects from the fire should be reported to NHS Direct in the first instance, who will advise on the best course of action."
The cause of the fire is not yet known.