Man clung to cliff by fingertips in St Abbs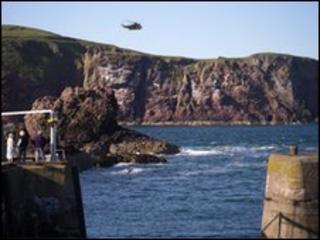 A walker who was left hanging by his fingertips over a 150ft drop after slipping on cliffs has been rescued.
The 54-year-old was walking in St Abbs in Berwickshire on Saturday when he fell down a 20ft ravine, sparking a major rescue operation.
Forth Coastguard received a call at about 1650 BST from the man's walking partner to say he was hanging by his fingertips.
He was eventually rescued after a specialist team took to the cliffs.
They were able to attach a line to the walker and pull him to safety.
Eyemouth and Dunbar Coastguard, a lifeboat team from St Abbs and officers from Lothian and Borders Police were involved in the rescue operation.
A helicopter was also scrambled from HMS Gannet in Prestwick.
A Forth Cosatguard spokesman said: "The man slipped down the ravine by the Lighthouse at St Abbs, and was hanging on by his fingertips.
"The coastguard on scene managed to secure a line to him and take him back to the top of the cliff where he was checked over by paramedics and was given the all-clear after recovering from his ordeal."
The coastguard urged people to keep back from cliff edges on coastal walks, warning that they could be unstable.