Two men killed in aircraft crash in Henley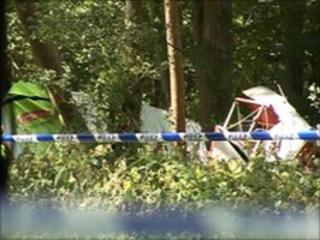 Two people have been killed in a light aircraft crash in Oxfordshire.
The bi-plane, carrying two people, came down in a wooded area near a school and golf course near Henley-on-Thames on Saturday afternoon.
Ambulance crews were called to the field in Rotherfield Greys at 1643 BST. The passenger, 32, was declared dead at the scene.
The 40-year-old pilot was taken by air ambulance to the John Radcliffe Hospital in Oxford where he later died.
The plane came down near the Greys Green golf course.
Thames Valley Police said the plane had taken off from White Waltham.
The two men are believed to be French nationals.
Air Accident Investigation Branch officers are examining the scene.