Charity runners take part in Blackburn 10k event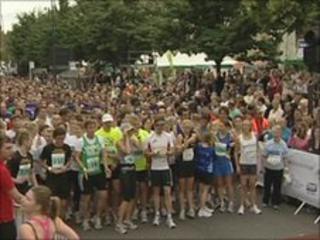 Up to 2,000 runners took to the streets of Blackburn for the inaugural Pennine Lancashire 10k race.
Organised by the family of late charity runner Jane Tomlinson, the event was hailed as the biggest event of its kind in Lancashire.
Many roads in and around the town centre were closed for several hours for the race, which got under way at Witton Park earlier.
It was won by Lee Cook, of Darwen, with a time of 35 minutes and 46 seconds.
Speaking moments after crossing the line, Mr Cook told BBC Radio Lancashire that strong winds had made it hard going.
"It's a tough course, it's windy, there's quite a few ascents," he said.
"The last few miles I had a really bad stitch so I've had to down the pace just so I don't resort to walking."
Fundraising efforts
The event was organised by Mrs Tomlinson's widower, Mike, who also oversaw a similar event in Leeds last week.
Mr Tomlinson said: "In creating Run For All, Jane wanted others to share the excitement and fulfilment she had experienced in participating in fundraising events.
"We are absolutely thrilled that with the support of Regenerate and the Pennine Lancashire councils we are able to bring Run For All to Pennine Lancashire."
Mrs Tomlinson raised £1.85m through a series of challenges as she fought her illness.
The fundraising efforts have continued since her death and more than £3m has been raised to date by the Jane Tomlinson Appeal.