Gove 'to help schools disappointed by building cuts'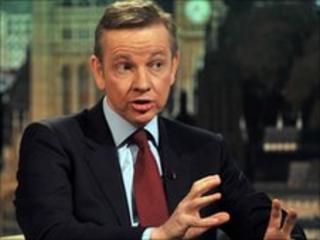 Education Secretary Michael Gove says the government will "continue to invest in school buildings" despite cancelling Labour's £55bn redevelopment programme.
He told the Sunday Express, ministers "hope to help people in all those areas who feel disappointed" by the news.
His department has denied claims in the Sunday Telegraph that he published a list of schools affected against his officials' advice.
He later apologised after it emerged there were 25 errors on the list.
The Sunday Telegraph reported that Mr Gove had been advised simply to announce his intention to end the Building Schools for the Future (BSF) programme and say he was starting a consultation exercise with local education authorities.
'Understandably disappointed'
But Mr Gove published a list of schools affected - then had to apologise in the Commons after it emerged there were many mistakes and some schools thought they had escaped the axe learned later that they would miss out.
Mr Gove has also promised to visit each of those schools to apologise in person. But his department denied he had been advised to delay publishing the list.
Shadow education secretary Ed Balls has written to Mr Gove asking him to "clarify" the Sunday Telegraph claims, ahead of a Commons appearance on Monday.
Mr Gove said in the newspaper article that some schools were "understandably disappointed that they won't be getting the money the last government boasted about and I feel for them".
But he said: "We will of course continue to invest in school buildings and hope to help people in all those areas who feel disappointed now.
"We will make sure there are more places for primary pupils and help schools in need of serious repair."
The education secretary called BSF "Labour's wasteful, failed scheme" and said school building would not stop, but ministers wanted to find ways to it more quickly and efficiently and to "target money at the schools most in need".
BBC political correspondent Carole Walker said Mr Gove's comments appeared to offer the prospect of a reprieve for some schools.
'No money'
The Education Secretary has come under pressure from some Conservative MPs, as well as the Labour opposition, over his decision to end BSF.
On the BBC's Politics Show, Lib Dem deputy leader Simon Hughes - who is not a minister - said: "It would be a nonsense to take money that could be used for improving existing schools to create new schools where, on the ground, the will of the local community is for the existing schools to continue."
He added that while he was not "entirely comfortable" with the cuts, the coalition had to "deal with the economic crisis that we are in".
"There isn't the money left to go ahead with the programme that Labour left us."
Lib Dem minister Nick Harvey has also warned that the "credibility" of the coalition government was at risk if it failed to quickly set out alternative funding to fix "inadequate" buildings.
Writing in the Sunday Mirror, Mr Balls - who is also running for the Labour Party leadership - vowed to fight the scrapping of BSF "all the way", and called on parents and teachers to join a rally in Westminster on 19 July.
"The real sin isn't the mess of the announcement, it's the madness of the policy," wrote Mr Balls, who is standing for the Labour leadership.
"And the ultimate responsibility for these unfair and unnecessary cuts rests with Michael Gove, and him alone."