Cuba 'starts freeing dissidents' after hunger strike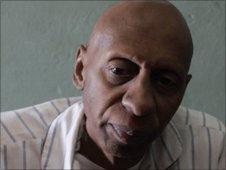 Cuba has started releasing a group of political prisoners as part of a wider agreement to free dissidents, relatives of some of the prisoners say.
The first three were reportedly taken to secret locations, part of a group of 17 planning to go to Spain.
The unusual prisoner release, which could become the biggest this decade on the communist-ruled island, was announced on Wednesday.
Under the agreement, 52 political prisoners will eventually be freed.
There was no official word on Saturday on how many have been released.
One dissident, Jose Luis Garcia Paneque, phoned his family to tell them he was being transferred from the Las Tunas provincial prison to Havana, his cousin Raul Smith told the AFP news agency.
The wives of dissidents Pablo Pacheco and Luis Milan received calls from other inmates telling them that their husbands had been released.
Another, Irene Viera, wife of Julio Cesar Galvez, said she and her son, who live in Havana, had been called in for medical examinations before the trip to Spain.
"I'm already saying goodbye to friends," she told Reuters.
But it was not clear how many would leave for Spain.
The Catholic Church in Cuba, which had helped negotiate the prisoner release, said at least 17 had agreed to fly there.
AFP reported that a church official said that 10 dissidents would be freed and would travel to Spain "soon" as part of the deal.
All 52 were part of a group of 75 dissidents rounded up in 2003 and sentenced to jail terms of between six and 28 years.
Dissident Guillermo Farinas ended his hunger strike on Friday after the government announced the deal.
It followed unprecedented talks between President Raul Castro and Cardinal Jaime Ortega.
Mr Farinas, who had refused food for more than 130 days, was reported to have been near death. He began his fast after Orlando Zapata Tamayo's death following an 85-day hunger strike.
Following Wednesday's announcement of the prisoner releases, Spain's foreign minister called on the EU to soften its Common Position on Cuba.
The 1996 policy calls for advances in human rights and democracy before relations with Cuba can be normalised.
Miguel Angel Moratinos, who was in Cuba to participate in the negotiations, said Madrid was willing to receive all the freed prisoners.
US Secretary of State Hillary Clinton said she was encouraged by the Cuban move, which she described as "something that is overdue, but nevertheless very welcome".
The BBC's Michael Voss, in Havana, said this was the largest prisoner release for years in Cuba and may be a turning point in ties with the US and EU.
Cuba has always denied that it has political prisoners, calling them mercenaries paid by the US to undermine Havana's rule, according to our correspondent.