Thousands turn out for Yeovilton Air Day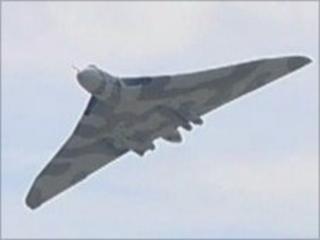 About 30,000 people watched displays by aircraft from past and present at the annual air day at RNAS Yeovilton in Somerset.
Among the craft flying at the show was the world's only airworthy Vulcan bomber.
Some of the pilots taking part had only last week returned from a tour in Afghanistan.
The displays took place at Yeovilton air base, which celebrates its 70th birthday this year.
Operators of the Cold War bomber had worked hard to have it airworthy in time.
Another vintage plane, the Sopwith Pup, which is being restored by enthusiasts at the air base, did not go on display as planned.
The cancellation has been blamed on operational demands of the base.