Burma splinter democracy group to run in poll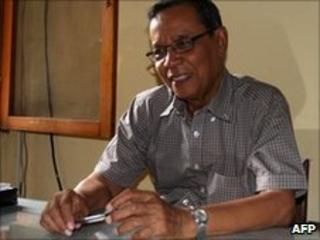 A breakaway group from Burma's pro-democracy party the National League for Democracy (NLD) has been registered to run in elections due later this year.
The National Democratic Force's decision to run in the controversial elections has put it at odds with other supporters of the NLD.
Traditional pro-democracy leaders, led by Aung San Suu Kyi, refused to register the NLD for the poll.
As a result, the party was disbanded by the military authorities.
Critics say the elections - Burma's first in 20 years - are a sham designed to cement nearly 50 years of military rule.
The NLD won a landslide victory in Burma's last elections in 1990, but the country's military rulers have refused to hand over power.
Ms Suu Kyi, 65, has spent most of the last two decades in some form of detention and she is currently under house arrest despite strong international pressure.
Through her lawyer she has expressed dissatisfaction over the formation of the new breakaway party, led by Khin Maung Swe.
Row over symbol
NLD supporters have accused the National Democratic Force of stealing their party symbol - a bamboo hat - in order to win votes.
But Khin Maung Swe said his party's symbol is not the same because it has two stars above the hat. He said the party will continue the "struggle for democracy".
News that the new party had received a permit to run in the elections was broadcast on state media.
The state-run Myanma Ahlin newspaper said the National Democratic Force will join 37 other new political parties and five existing groups in contesting the poll.
Party chairman Dr Than Nyein expressed optimism that the elections could bring change.
"People should assume that this election could possibly bring change," he told AFP news agency.
"They should vote at this election to do their duty by choosing the party or the person who can really work for the people and the country."
He paid tribute to Ms Suu Kyi, calling her "a real idol of democracy".
"We will always respect and admire her courage, her belief and sacrifice," he said.
"We formed our party with the aim to continue the democracy struggle under the law. Meantime, we are also trying to solve the social and economic problems that are happening at the moment in the country."
The ruling junta has yet to announce a date for the election but correspondents expect it to be held in October or November.
It will take place under a new, military-drafted constitution.