Prime Minister David Cameron seeks Srebrenica 'justice'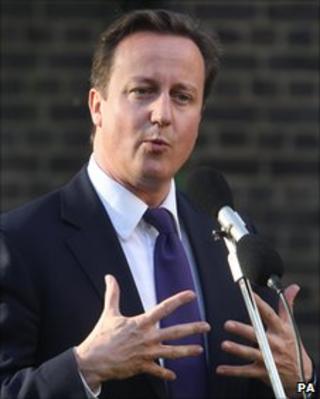 The UK government will not rest until those responsible for the Srebrenica massacre are brought to justice, Prime Minister David Cameron has said.
Speaking on the 15th anniversary of the genocide, he said it was "a crime that shamed Europe".
More than 7,000 Muslim Bosnian men and boys were killed in the atrocity in July 1995.
Minister without portfolio Baroness Warsi will represent the UK at a ceremony in Srebrenica later.
The prime minister said: "We must never forget the act of genocide that happened at Srebrenica. It was a crime that shamed Europe.
"We owe it to the victims to learn the lesson of Srebrenica: that evil must be confronted if humanity is to be protected.
"We owe it to the victims to ensure that those indicted for this appalling crime are pursued relentlessly until they are brought to justice."
Mr Cameron said the government "will not rest" in its efforts to make sure that Ratko Mladic is brought to the International Criminal Tribunal at the Hague, alongside other fugitives such as Goran Hadzic.
He said the coalition government would take a close interest in the Balkans region and help Bosnia and Herzegovina to "move forward" and join the European Union and Nato.
The prime minister also insisted that everything possible should be done to ensure that "such an atrocity can never be repeated".