Biden jokes about 'hot' Russian spy with Jay Leno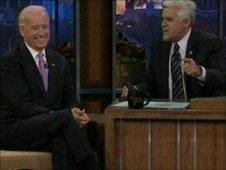 US Vice-President Joe Biden has been cracking jokes about the Russian spy scandal on a TV chat show.
Referring to one of 10 agents sent back to Russia, comedian Jay Leno on The Tonight Show asked Mr Biden: "Do we have any spies that hot?"
Mr Biden said: "It wasn't my idea to send her back." He also defended only getting four spies released by Moscow for the 10 that they returned.
The US and Russia made a spy swap on Friday on airport tarmac in Vienna.
It was Mr Biden's first appearance on the show since taking office in 2009, although he has taken part several times before being elected.
Mr Leno showed the vice-president a photo of 28-year old Anna Chapman, one of the alleged spies.
In response to Mr Leno's questioning, Mr Biden, in a mock-serious tone, told him: "Let me be clear. It wasn't my idea to send her back."
Mr Leno also asked him why the US was only getting four people in return for the 10 accused spies they were letting go, saying it did not "seem fair".
Mr Biden responded by saying: "We got back four really good ones".
"And the 10, they'd been here a long time, but they hadn't done much," he added.