Charges dropped against reporter in England fan case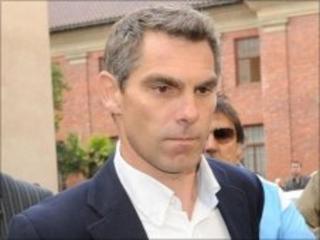 Charges against a Sunday Mirror journalist arrested after a fan got into England's World Cup dressing room have been dropped.
Simon Wright was accused of attempting to defeat the ends of justice and fraud, but those were withdrawn.
Mr Wright paid a 750 rand (£65) admission of guilt fine for an immigration offence, his lawyer said.
Fan Pavlos Joseph, 32, from London, paid a £65 fine last week. As a result, all charges against him were dropped.
After the charges against Mr Wright were dropped his lawyer, William Booth, said: "He is relieved it's over. He has been through absolute hell and his family want him back home.
"They have been through an emotional rollercoaster."
The lawyer said the charge of attempting to defeat the ends of justice was "removed from the court roll" after prosecuting authorities agreed there was no evidence.
He added that his client paid an admission of guilt fine concerning his request to put a different name in the Bay Hotel's register, despite giving staff the correct details.
On Wednesday Mr Booth told South Africa's special World Cup court in Cape Town that he wanted to record publicly that there was no charge of conspiracy or collusion between his client and Mr Joseph.
Speaking outside court, he said the two men met as a result of a telephone call made to the Sunday Mirror by Mr Joseph's sister and did not believe there was any basis for continuing with the charges.
Meanwhile, a Trinity Mirror spokesman said the company was "delighted" that the charges against the journalist had been dropped.
In a statement it said: "The prosecution have accepted that he did not try to hide England fan Pavlos Joseph from the police at any time and he did not conceal his own identity from the Bay Hotel in Cape Town. All he was doing was protecting his exclusive interview.
'Shocked' players
"Most importantly the prosecution have finally conceded on the record that there was and has never been any suggestion that Simon colluded with Pavlos Joseph to enter the England dressing room after the game against Algeria."
Mortgage adviser Mr Joseph was discovered in the England team's dressing room in Cape Town's Green Point stadium on 18 June, following England's 0-0 draw with Algeria.
He claims he chanced upon the team while looking for a toilet, but the fan exchanged words about England's performance with former captain David Beckham before he was escorted out.
Mr Joseph told BBC Breakfast on Thursday that he had spoken calmly, but said: "I've spent a lot of money getting out here, that was a disgrace, what are you going to do about it?"
Nobody said anything, but the players looked "shocked", he said.