Abseilers and plastic ducks raise Wirral charity cash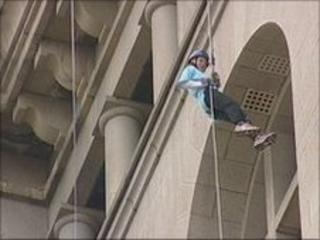 A team of abseilers joined forces with 40,000 plastic ducks to raise cash for a Merseyside children's hospice.
Hundreds of people were spending the day abseiling down the Liver Building as part of a drive to raise £80,000 for Claire House in Wirral.
And as they rappelled down the wall of the historic building, thousands of plastic ducks were let loose down the nearby canal at Pier Head.
The fundraising drive was organised by Merseyside Fire Service volunteers.
The hospice, which is a registered charity based in Bebington, helps more than 200 families a year.