Cap on Welsh university places planned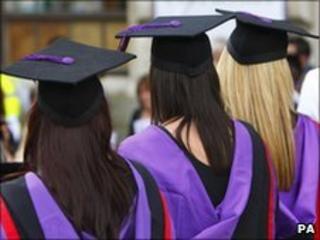 The number of student places at Welsh universities will be capped next year for the first time.
Professor Philip Gummett, Chief Executive of the Higher Education Funding Council for Wales, said recruitment had to be controlled.
Applications to some universities are up over 30% this year, leading to fears thousands of students could miss out on a place.
Prof Gummett said the cap was needed because of the cost of student support.
He told the BBC's Politics Show Wales he was "very sympathetic" to people missing out on places.
"If there were another way of finding a way around that problem no one would be more delighted than me, " he said.
Previously, universities have recruited above the levels recommended by the Higher Education Funding Council for Wales (HEFCW), leaving the assembly government with unplanned costs for student support.
Education Minister Leighton Andrews recently announced a series of targets for the university sector, including mergers between institutions.
He said this would result in fewer vice chancellors, but not fewer students.
A cap on student places would limit universities' ability to recruit students beyond agreed numbers, with those who over-recruit likely to be subject to penalties.
"It has not been too much of a problem in the past but numbers are starting to go up and the minister has taken the view, and we would agree with him, that he can't afford to have such an uncontrolled element within his budget," Prof Gummett said.
On average the number of applications to Welsh universities is up 15% on last year.
Swansea Metropolitan University reports a 33% increase, while Glyndwr University in Wrexham says applications are up 31%.
Universities are also predicting that far fewer places will be offered through the clearing system this year.
'Agreed numbers'
Prof David Warner, Vice Chancellor of Swansea Metropolitan University, said thousands of applicants would miss out.
He has previously warned that a cap on student recruitment will mean competition for places is likely to be even more fierce next year, as new applicants go head to head with those who were unsuccessful this year for a limited number of places.
A Welsh Assembly Government spokesperson said: "We gave an indication in HEFCW's remit letter that they needed to look at the question of unbudgeted student places.
"To maintain opportunities for access, standards of provision and the quality of the learner experience, HEFCW has been asked to take the necessary measures to ensure institutions minimise the recruitment of students beyond agreed numbers."