Return to normality for Rothbury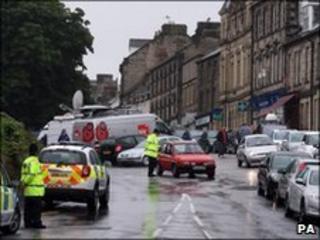 For the past few days residents of Rothbury have lived in the shadow of one of the UK's biggest manhunts.
Dozens of reporters have descended on this normally quiet community as the intense search for Raoul Moat focussed on the rural market town.
Moat, who was wanted in connection with the shooting of his former girlfriend, her new partner - who died - and a police officer, had evaded capture for almost a week.
Events came to an end in the early hours of Saturday when the former bouncer shot himself after a six-hour stand-off in the Riverbank area of the town.
The hunt for the fugitive has thrust Rothbury into the media spotlight.
For residents, normality has been disrupted by a vast police operation, which resulted in a two mile (3.2km) exclusion zone around the town.
People were warned to stay indoors, and parents were told to chaperone children to and from school.
Local businesses have reported a loss, although others have been boosted by the influx of hungry journalists.
Stephanie Armstrong, manager of outdoor clothing store Otterburn Mill, said: "Business has been horrendous.
"A lot of people have only been going out for essentials. We've really suffered."
Dozens of armed police have become a commonplace sight on the streets, with residents soon accepting their presence.
Linda Stephenson said: "It's strange how one day you wake up to scores of armed police in front of you, and the next minute don't even realise they are there, it just seems normal."
The overall feeling in the town is a huge sense of relief but also a sad recognition of the loss of one man's life.
Calllum Garrick, who works in Rothbury Family Butchers, described the past week as "hectic".
He said: "It was a bad ending to everything, and it's sad to think a man felt the need to shove a shotgun to his own face."
Holidaymakers have also been caught up in the drama.
Cynthia Spenceley, who has been staying in the town for the past week, said: "The first I knew of anything was when I got a text from my family saying 'watch out for the gunman'.
"Obviously there's been a lot of activity, and it's the only thing people have been talking about."
Dave Clark, from Rothbury Wine, said: "Life goes on. People have been dealing with it.
"You read in the press it's been a town in fear but it's been far different to that."
Now the community is looking forward to the town's annual festival next weekend, which was in danger of being cancelled if the manhunt continued.
Carole Murray said: "For me it's a huge relief it's all over.
"The music festival is a huge event for the town, and this will now go ahead."
Ted Hunter added: "It's been a bit unreal this past week, but we now have to get back to business as normal.
"The music festival will be the start of that."