Archbishop John Sentamu calls for end to 'spin'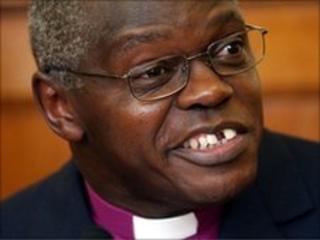 The Archbishop of York has appealed for an end to "spin and propaganda" against the Archbishop of Canterbury.
Dr John Sentamu told the general synod of the Church of England "enough is enough" over the "general disregard for truth" about Dr Rowan Williams.
His comments came as the Church's governing body prepared for a difficult series of debates on women bishops.
Dr Williams and Dr Sentamu are trying to stop a split over the issue which divides liberals and traditionalists.
Business ethics
Dr Sentamu said: "It deeply saddens me that there is not only a general disregard for the truth, but a rapacious appetite for 'carelessness' compounded by spin, propaganda and the resort to misleading opinions paraded as fact, regarding a remarkable, gifted and much-maligned Christian leader I call a dear friend and trusted colleague - one Rowan Williams."
The two most senior figures in the Church will urge synod members to support a last-ditch compromise deal aimed at avoiding a split over the introduction of women bishops.
Dr Williams is also under pressure after the Crown Nominations Commission blocked the appointment of the openly gay Dean of St Albans, the Very Rev Jeffrey John, as the new Bishop of Southwark.
In his address to the synod, Dr Sentamu also spoke about business and commerce, and the importance of ethics.
"We need the pursuit not of profit, but of economic justice on a global scale, for this is the key to solving so many of our political and social problems," he said.
"And our own local business ethics, as with our individual personal ethics, are a vital contributory aspect of this whole picture. All will benefit from a truly ethical approach to every aspect of our life."
Rejected proposal
Dr Sentamu added that there was a "moral imperative" to reduce human suffering.
"Wealth creation is a good thing, but with a spiritual health warning. Obsession with wealth becomes an evil - and it is not to be an end in itself, but rather a by-product of good and purposeful work," he said.
Meanwhile, the general synod later voted against an amendment that proposed three new dioceses to cater for objectors to women bishops.
Also proposed in the rejected amendment was the idea that male bishops appointed to minister in these dioceses would declare that they would not participate in the consecration of a woman bishop or priest.