Fly-tipping 'blight' warning amid Ceredigion clampdown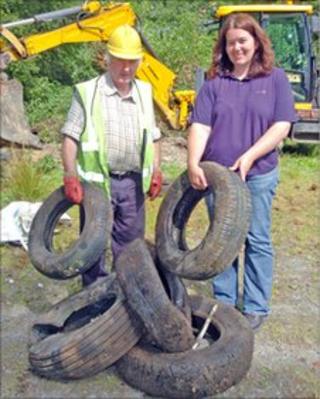 A week-long clampdown on illegal dumping of rubbish in Ceredigion included a clean-up of 25 tonnes of refuse from one scenic location.
The removal of asbestos, tyre, wood and metal waste from Llanilar station yard was organised by Ceredigion council.
Officials said they hoped the week's activities would reduce the "blight" of fly-tipping.
It was co-ordinated by Fly-tipping Action Wales, a partnership of more than 40 agencies.
The group aims to bring various groups together "to inform householders, business owners and traders about their responsibility".
According to Fly-tipping Action Wales figures, there were 55,300 fly-tipping incidents between April 2008 and March 2009, and clean-up costs are £3m.
Emma Killian, south west Wales co-ordinator for Fly-tipping Action Wales, said the hope was that "more people are aware that fly-tipping is a crime and everyone has a responsibility to make sure that they get rid of their waste legally and safely".
She added: "We hope this week will help reduce the number of incidents of fly-tipping in the county, as fly-tipping is an unnecessary blight on our communities and carries hefty clean up costs for taxpayers."
Sole traders have been urged to register as waste carriers with the Environment Agency Wales, while businesses were asked to use registered traders to get rid of waste.
There were also visits to DIY stores to encourage shoppers to ask companies what happens to their waste, and also to use only registered traders.
Warning notices
The Llanilar station yard clean-up was the initiative of Ceredigion's tidy towns officer, Rachel Mills.
Fly-tipping was regularly carried out there until two years ago, when the council put a gated area around the site.
Warning notices were also put up at rural recycling sites.
Ms Mills said: "There is a recurring problem at these sites, whereby clear bags containing household recyclate are fly-tipped either by householders who have missed the fortnightly collection or are not on the current collection route, or by business owners or traders disposing of waste from business premises.
"Bags left in this way are collected as fly-tipped waste and are sent to landfill rather than being recycled.
"This means that not only are people committing a fly-tipping offence for which they could face fines or imprisonment, but their efforts to help the environment through recycling are wasted."
Dyfed-Powys Police also carried out checks on vehicles carrying waste to ensure that they were registered with the Environment Agency Wales and were also using authorised sites.
Police said those who were found not to be registered as waste carriers would face action.
To find out about local registered waste carriers, call 08708 506 506.