New confusion over Greater Manchester school projects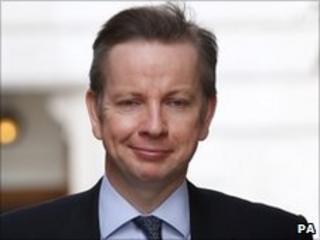 The education minister is facing fresh criticism after two local councils had their school projects axed - despite meeting the criteria to proceed.
Michael Gove had said that councils which had reached "financial close" with contractors under the axed national programme could go ahead.
But although Wigan and Bolton reached that milestone, their projects were named among more than 700 scrapped.
Wigan Borough Council is writing to Mr Gove about the discrepancy.
The education secretary has already apologised for a series of errors in data about the scrapping of the multi-billion pound Building Schools for Future (BSF) scheme.
A number of schools were led to believe they could go ahead with building projects which had in fact been axed.
In his apology to the Commons on Wednesday, Mr Gove urged any MPs concerned that their schools may have been wrongly categorised to contact him to ensure the information was "as accurate as possible".
The latest discrepancy came to light when BBC Radio 4's Today programme looked at the list of local authorities which had reached financial close.
This means the authorities have signed an agreement with a contractor to set up a local education partnership (LEP) to build certain schools.
In his announcement on Monday, Mr Gove said: "Where financial close has been reached in a local education partnership, the projects agreed under that LEP will go ahead.
"I will continue to look at the scope for savings in all these projects."
Joint partnership
Both Wigan and Bolton had reached financial close and had entered partnerships with neighbouring authorities which have had projects go ahead.
But Wigan's £80m of projects for Lowton and Golborne, Hesketh Fletcher, Bedford, Hindley and Westleigh have all been halted.
Deputy chief executive Sue Johnson told the Today programme: "We have got a joint local education partnership with Salford City Council... and we have reached financial close with the LEP.
"So we were very confused and a bit nonplussed as to why Wigan then were told 'you are not going to go ahead'."
"So we are in the process of writing to Michael Gove to seek clarification as to whether there has been some mistake."
Graham Stuart, the Conservative chair of the Education Select Committee, said: "I'm sure when the local authorities write to the department they will look at this and respond and explain how they came to their conclusions."