Alcohol and drugs 'spotter' police on Newquay trains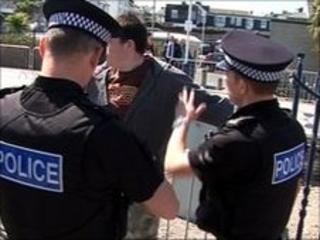 Police in Cornish resort Newquay are putting undercover spotters on trains to catch people bringing drugs and alcohol into the town.
Operation Brunel is part of new measures to combat under-age drinking and anti-social behaviour.
Police at Newquay railway station confiscate alcohol from under-age passengers.
Drinking has also been banned in Newquay town centre after two teenagers died after falling from cliffs in 2009.
Anyone buying alcohol in Newquay must show a passport or driving licence to prove their age in a clampdown on under-age drinking in the resort.
Thousands of young people have started coming to Newquay as the summer holiday gets into full swing.
Sgt Ian Drummond-Smith, from Devon and Cornwall Police, said: "This is the time when the post exam exodus has started.
"Hopefully people are getting the message.
"The idea is to make it as difficult as possible to bring alcohol in."
Searches are also taking place at Newquay airport.
A number of 16-year-olds have also been returned to their parents after being found drunk in the resort.