Cornwall man thanks Twitter advice for face treatment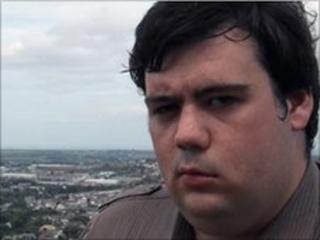 A Cornish web designer feared his face could have been left permanently paralysed before he found treatment via Twitter.
Patrick Johnson, 26, from Redruth, woke up to find half his face numb and drooping.
He posted a message on Twitter and Glasgow woman Marj Beattie said it sounded like Bells' Palsy.
Thanks to the prompt diagnosis, Mr Johnson is on his way back to full health.
Bell's Palsy is damage or inflammation of the facial nerves resulting in weakness or paralysis of one side of the face, but the precise cause is unknown.
'Getting better'
Mr Johnson said: "When I woke up it looked like I'd had a stroke on the side of my face.
"I put a message on Twitter saying this is what had happened.
"Someone called Marj from Glasgow wrote back to me saying it could be Bells Palsy.
"She told me to go straight to A&E.
"They diagnosed it as Bell's Palsy there and then."
He is now on a course of steroids.
"It's still quite bad on one side," he said. "But it's getting better and hopefully I will be fully recovered in the next month or so.
"I was worried my face could be paralysed permanently."
Ms Beattie, 41, from Old Kilpatrick, near Glasgow, said: "It was a drummer in my band who had Bell's Palsy a couple of years ago, but did not go to the doctor.
"Because of that it took him a lot of time to recover.
"I go onto Twitter every day and catch up with what people are saying and you build up relationships that way."