Donegal Orange march bridges generation gap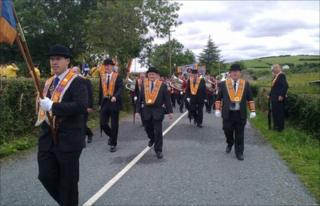 Thousands of Orangemen have held their annual pre-Twelfth parade in Rossnowlagh, County Donegal.
Visitors from as far afield as Canada and the US marched alongside lodge members from NI and border counties Cavan, Leitrim and Monaghan.
Also there were three generations of one family who share the same name.
County Grand Master David Mahon said he was "very proud" his son and two-month-old grandson, both also called David, could join in the day's events.
While prospective Orangemen technically have to be aged at least 16, Mr Mahon said he was pleased to see a new generation coming through.
The march comes ahead of the annual 12 July events in Northern Ireland which mark the 1690 Battle of the Boyne.
After gathering just outside the village, marchers accompanied by about 50 bands made their way along the one-and-a-half mile route for a religious service.
Ahead of Monday's parades, police in Northern Ireland appealed for everyone taking part in Twelfth of July celebrations this weekend, or protesting against the parades, to act responsibly.