Romford MP backs 'cherished' Isle of Man and UK link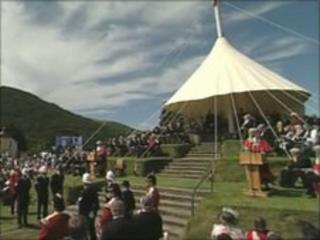 An English MP has urged colleagues to support what he says is a "cherished and unbreakable link" between the Isle of Man and United Kingdom.
Andrew Rosindell, the Conservative MP for Romford, tabled an Early Day Motion asking Parliament to join the people of the island in celebrating Tynwald Day.
He also asks the UK Government to back "a further 1,000 years" of Manx self-government and home rule.
Mr Rosindell is chairman of the British Isle of Man All-Parliamentary Group.
Fourteen MPs supported the motion, including Ian Paisley Junior and Northern Ireland's Minister of Culture, Arts and Leisure, Gregory Campbell.
It was tabled to support Tynwald Day, which took place on 5 July.
Each year, the Manx parliament assembles on Tynwald Hill for an ancient ceremony in which new laws are promulgated in both English and the Manx Gaelic.
Known as Midsummer's Court, the historic day was first recorded in 1417 but the Isle of Man Parliament itself dates back more than 1,000 years.