Embassies angry after Sri Lanka protest blocks UN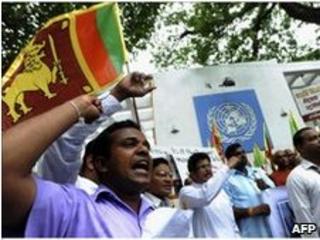 Embassies in Sri Lanka have expressed dismay over an "intimidating" protest which has blockaded the United Nations compound in the capital.
Hundreds of people are demonstrating against a UN panel investigating alleged war crimes in Sri Lanka.
Diplomatic missions including those of the UK, US and Germany said blocking access to the UN and "intimidating" its workers breached "international norms".
There were chaotic scenes outside the UN offices as police were called in.
Ten embassies in the capital, Colombo, issued a joint statement on Saturday condemning the protests, which they said would harm Sri Lanka's reputation on the international stage.
In the statement, they called upon the Sri Lankan government to take "all appropriate steps" to ensure the safety of the UN compound and staff.
War crimes allegations
The latest escalation comes a day after the UN Secretary-General, Ban Ki-moon, urged Sri Lanka to "normalise conditions" around the UN office in Colombo after days of angry demonstrations.
On Thursday, Mr Ban recalled his top envoy to the island, Neil Buhne, and closed a regional office in Colombo.
Most UN staff managed to leave the compound after police tried to break the blockade in Colombo on Tuesday, before they too were ordered to leave by the government.
Several senior staff, however, remained inside and the protests, led by a government minister, were continuing.
Housing Minister Wimal Weerawansa has resigned and started what he says will be a hunger strike to the death, AFP news agency reports.
In a statement, Sri Lanka's ministry of external affairs said it wished to "categorically emphasise" that the government had looked after the safety of the UN premises.
"The demonstrations taking place outside have not resulted in harm to anyone," it added.
Sri Lanka says an inquiry is not needed and denies troops committed war crimes.
There have been consistent allegations that both the army - and Tamil Tigers rebels who troops routed last year - committed crimes at the end of the war.
About 7,000 civilians died in the last five months of the war, according to the UN.
It says the panel, announced last month, will report back within four months and will advise on how to deal with alleged perpetrators of abuses.