Guillermo Zuloaga, critic of Venezuela president, in US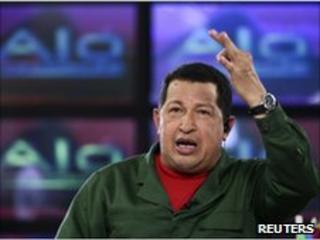 A fugitive critic of the Venezuelan government, Guillermo Zuloaga, has appeared in the US to denounce what he says is political persecution.
Mr Zuloaga owns Globovision, the only television channel to remain openly critical of the government.
He went into hiding in Venezuela last month after the authorities ordered his arrest for alleged profiteering.
He has now appeared in Washington at the inter-American commission for human rights.
"We have come to find the justice we cannot find in Venezuela," Mr Zuloaga said in an interview with Globovision from outside the commission.
"Let them come here and prove that we have committed any crime".
'Not political'
Police began searching for Mr Zuloaga and his son a month ago after they were charged with illegal profiteering by hoarding cars for sale in two businesses they own.
The Venezuelan government insists the case against him is not politically motivated.
President Chavez has previously accused Globovision of supporting a coup attempt against him in 2002.
Mr Zuloaga, a millionaire businessman, is one of the highest profile opposition figures in Venezuela.
He said he would continue to speak out against the government.
"I reassure our viewers that I will not rest for a single moment in the defence of the principles and values of our country", he said.
The opposition say the charges against him are part of a wider effort by Mr Chavez's government to gag the media.
Six other private television stations were made to stop broadcasting in January for breaking a law on broadcasting government information, and radio stations have also been forced off air.
But the government says the regulations were designed to make Venezuela's media more democratic and representative.