Airlines 'fail to refund taxes' says Which?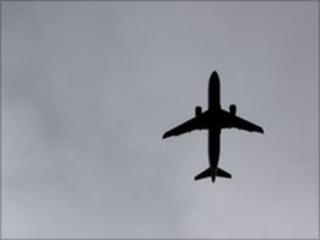 Airlines are being accused of keeping millions of pounds for themselves which ought to be refunded to passengers.
Anyone who fails to take a flight they have booked should be able to reclaim the tax element.
But the consumer organisation, Which? says most airlines make it too difficult to get that money back.
"In some cases it costs at least twice as much to reclaim the tax as the tax itself," says Which?'s Rochelle Turner.
In most cases passengers who miss, or deliberately fail, to catch a flight, are unable to reclaim the cost of the flight itself.
Cost of claiming
But they should be able to reclaim the Air Passenger Duty (APD) which varies from £11 per person on a flight within Europe, to £110 for a long-haul first class flight.
A family of four flying economy from London to Miami currently pays £200 in the passenger tax.
Most airlines charge passengers an administration fee if they wish to reclaim the tax.
Ryanair, for example, charges £17 per person while Flybe charges £25. Both Virgin and BA charge up to £30.
Among the major airlines, only Easyjet will refund the tax for free.
This means that unless passengers are paying a higher rate of the duty, such charges make it impossible to reclaim.
"I think it's lamentable that the airlines can impose such high charges," says Simon Calder, travel editor of The Independent newspaper.
'No choice'
So what do the airlines do with the tax?
"That's a very good question," says Rochelle Turner, of Which?. "That money probably just goes into the airlines' coffers."
But the airlines insist that the charges are justifiable.
British Airways says the charge of up to £30 is an accurate reflection of what it actually costs the company in administration costs.
And Flybe told the BBC it had "no choice but to invest in the human resources required to administer the collection and payment of several third party taxes, and our charges are reasonable".
However Mr Calder questions how much it actually costs airlines to make such refunds.
"If BA is saying it cost £30 to refund your money, I'd say, 'have a look at your costs.'"
"It should be a matter of just a few minutes and a few pence to give you back the tax," he added.
'Not fair'
Passengers queuing for a coach to Stansted airport were mostly unaware that it should be possible to reclaim Air Passenger Duty on unused flights.
Marie-Louise Mennen, a Ryanair passenger, was surprised.
But when told that the charges for reclaiming the tax were mostly higher than the tax itself, she said, "That wouldn't be worth the effort, would it? It's not really fair to passengers."
The government is planning to replace the charge with a tax that attaches to the flight, rather than to the passenger.
The idea is to incentivise airlines to fly with planes that are as full as possible.
But the plan is unlikely to make much difference to those wanting to reclaim the tax.
From November, the passenger tax on long-haul flights will also go up to at least £60 a person, which may make it more economical to reclaim it.
But for most flights within Europe there remains little prospect of passengers getting their money back.
This story appears on BBC Breakfast on Saturday 10 July from 0600 BST and on the BBC News Channel