Building site in Birdlip reopens after WWII bombs found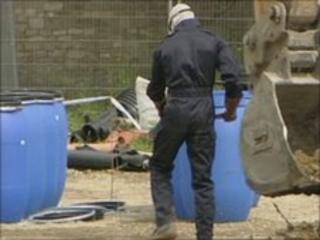 A building site in Birdlip, Gloucestershire, has reopened following the discovery of a number of World War II phosphorous bombs.
Bomb disposal officers were called to the site on Wednesday lunchtime after a digger hit one of the incendiary bombs which then caught fire.
More than 20 of the devices, which were used by the Home Guard, have since been made safe.
The bombs were put into large vats of water to stop them from igniting.
The B4070, which runs past the site, was shut for a short time on Wednesday.