Raoul Moat: Police negotiate with man resembling gunman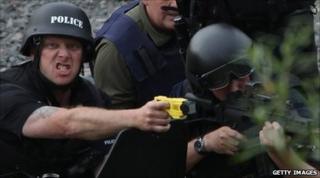 Police are negotiating with a man fitting the description of fugitive gunman Raoul Moat in Rothbury.
People in the town have been told to "go home and lock the door" by armed officers.
Moat is wanted over the shooting of his ex-girlfriend, her new partner - who was killed - and a police officer last weekend.
An eyewitness Chris Robertson said he had seen a man resembling Moat with a gun pointed at his neck.
Speaking on a mobile phone from inside the exclusion zone, he told BBC News: "There was a man down by the river with what appeared to be a sawn-off shotgun pointing at his own neck.
"He was about 150 yards away.
"I wasn't sure it was Moat, he seemed bigger, unless he was wearing padded clothing.
"Then the police came down and pointed their rifles at him.
"Basically we are under siege here."
Moat, a former nightclub bouncer, is alleged to have shot and injured his former girlfriend Samantha Stobbart, 22, and killed her new partner Chris Brown, 29, in Birtley, Gateshead on Saturday, three days after he was released from prison.
Pc David Rathband, 42, was shot in his patrol car in Newcastle the following day.
As the stand-off with police in Rothbury continued into the night, Ms Stobbart's grandmother, Agnes Hornby, said: "I'm pleased that he (Moat) is still alive, that he hasn't shot himself yet or he hasn't made it so the police have shot him.
"He's not a scaredy cat type of person. I thought he would come out shooting, so they would shoot him."
Susan Ballantyne was watching events unfold from an upstairs window of her home in the riverside area.
She said: "The police car that has been here all night has moved and put its lights on and I can see a figure moving.
"I think it's him. He is having a drink.
"He has been lying down next to stepping stones going across the river which are part of one of the famous Rothbury riverside walks.
"They have trained two spotlights on him. Now he is sitting up. I think he has got a hoodie on."
'Pointing weapons'
Earlier Peter Abiston, who was in the exclusion zone set up by police in Rothbury, said he had a clear view of the scene and could see a man with a shotgun under his chin.
He said: "There are about 20 armed officers lying down pointing weapons at him.
"He looks very calm. It looks as though the police clearly have it under control."
"One man is not wearing any uniform but is sitting down.
"It's a stand-off."
Ben Storey saw the police operation as he cycled across a bridge near the area of the river known as The Steppies.
The 19-year-old said: "There were about 10 armed officers and they all had their guns pointed at one man."
The scene is close to where the Lexus, believed to have been driven by Moat, was found on Tuesday.
Ch Supt Mark Dennett, of Northumbria Police, had earlier warned residents of the Northumberland town to "stay inside for your own safety".
Armed police have been carrying out search operations in the town since Tuesday.
One resident, Paula Mason, said her mother had attempted to leave her house but an armed officer shouted at her to get back inside.
'Mayhem'
The police cordon was then pushed back as the area was sealed off.
Eyewitness Judith Ellis said two police cars collided in their efforts to get to the scene, which she described as "mayhem".
Police cars and armed response vehicles are at the scene, along with two large incident support ambulances stationed nearby.
Northumbria Police have imposed a 10-mile (16km) exclusion zone above the town.
Three mobile phones used by Moat were recovered by police on Thursday.
One was handed in by a member of the public in Rothbury and two were found by police.