Pope visit ticket news to be 'released soon'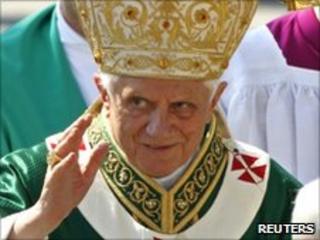 Ticket information about the Pope's visit to the UK should be released soon, says Lord Patten, in charge of organising the trip.
He said there should also be transparency about costs to the taxpayer, as latest figures suggested the four-day trip could reach £12m.
Lord Patten, himself a Roman Catholic, has been in Birmingham visiting Cofton Park where a mass will be held.
He confirmed the city is the best place in the West Midlands for the visit.
It was thought that Pope Benedict XVI would hold an open-air mass at Coventry airport in September, but he will now be coming to Birmingham.
'Right decision'
He will use the Cofton Park for the beatification of Cardinal John Henry Newman, who is buried nearby.
Lord Patten said he would support the church's decision to switch venues.
"Having seen Cofton Park today, having been to where Cardinal Newman is buried just around the corner and then having gone up to Birmingham Oratory where he lived for so long and wrote so many extraordinary works, I think it's undoubtedly the right decision," he said.
"It won't hold as many people as theoretically you could have got into Coventry Airport but I think it will be a great experience for those who are able to get tickets for the mass."
Earlier this week, it was revealed the cost to taxpayers for the visit could rise to £12m - up to £4m higher than previous figures - and does not include policing costs.
The trip will also cost the Catholic church £7m.