Betancourt seeks Colombia kidnapping damages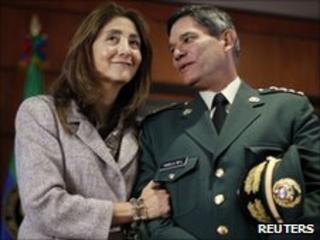 The former Colombian politician Ingrid Betancourt, who spent six years as a hostage of leftist rebels, is asking Colombia's government for compensation.
Ms Betancourt and her family are seeking $6.8m (£4.5m) in damages for emotional distress and loss of earnings during her time as a Farc hostage.
Colombian officials have expressed surprise, noting that troops risked their lives to rescue her in 2008.
They say she ignored advice not to go to the area where she was kidnapped.
The Revolutionary Armed Forces of Colombia (Farc) seized her in the south of the country while she campaigned for the presidency.
In July 2008, the group was tricked into handing Ms Betancourt and 14 other hostages over to soldiers masquerading as members of a humanitarian group that had volunteered to fly them by helicopter to a new location. No shots were fired during the rescue.
"The defence ministry is surprised and upset by the request, all the more due to the effort and zeal with which our public forces planned and executed the rescue," the ministry said in a statement on Friday.
"Men and women of the armed forces risked their lives while seeking the liberty of the hostages in an operation that Ingrid Betancourt herself called 'perfect'."
Ms Betancourt, a dual Colombian-French citizen, has spent most of her time since being freed with her family in Europe.
Abductions, either for political reasons or for ransom, have been common in Colombia in recent decades, earning the country notoriety as the kidnap centre of the world.
By 2001, it was estimated that some 3,000 people were being seized each year by armed groups and drug traffickers.
Since then kidnappings have declined, although the exact number of people still in captivity is disputed.
According to Fondelibertad, a government department responsible for co-ordinating anti-kidnapping efforts, 79 people were definitely in captivity as of February 2010.