Drive to find ethnic organ donors in Bradford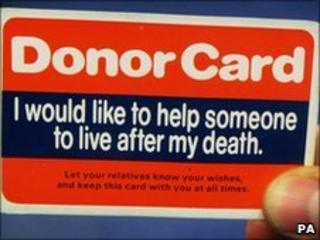 People from South Asian communities in Bradford have been urged to consider organ donation due to an acute shortage of ethnic minority donors.
The NHS said more than half of the people in Bradford waiting for new organs were of South Asian origin.
Nationally only 1.2% of people from these communities have joined the NHS Organ Donor Register.
Only seven donations of major organs have been made in Bradford since 2005, the city's hospitals trust revealed.
Bradford Teaching Hospitals NHS Foundation Trust is trying to increase awareness of transplantation to boost the number of donors from the city's hospitals.
There are currently 106 people in the city waiting for a life-saving transplant.
The trust is appealing to everyone in the city to join the register but said it was "crucial" that more people of South Asian origin signed up.
Dr Robin Jeffrey, who treats renal patients, said: "The average waiting time for a new kidney is around three years but this can double for those of South Asian origin because of the difficulty of obtaining a good match.
"I believed increased awareness and acceptance of organ donation in this community is crucial for our Asian patients."
Mahmud Nawaz, whose wife died from a sudden brain haemorrhage in 2004, is supporting the trust's campaign.
Four people benefited from his wife Sharon's organs, including an 18-month-old boy.
Mr Nawaz, who joined the register after his wife's death, said: "When I was told that part of her liver had gone to a little boy I was crying but smiling at the same time.
"The little boy would have made her so chuffed for the obvious reasons that we'd talked about having children but we never did and that's what we lost out on.
"It gives me great peace that she will be up there with a big grin on her face knowing that she has given four people the chance of life.
"If people can see what Sharon has done and be inspired to sign up to the donor register themselves then that would be wonderful. Her legacy will be how many people sign up after reading our story."