Timing helps Sir Mick Jagger's money making
By Simon Atkinson
Business reporter, BBC News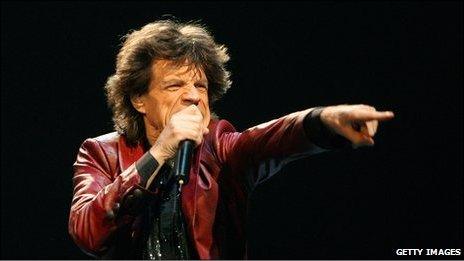 Among the alumni of the London School of Economics, many have gone on to earn vast fortunes.
The illustrious list includes Easyjet founder Sir Stelios Haji-Ioannou, French billionaire Delphine Arnault, and financier George Soros.
One of its less conventional former students is Sir Mick Jagger, whose estimated £190m stash looks measly compared to the wealth of those above.
But while those riches are ultimately down to his song writing, singing and guitar playing - business nous has undeniably played a part.
His band, The Rolling Stones, have released about 90 singles and more than two dozen studio albums.
And still selling out huge arenas and stadia, they also control the touring, the merchandise and sponsorship side of the business.
But in a rare interview, Sir Mick admitted to the BBC that he was lucky in the timing of his career.
"When the Stones started out they didn't make any money out of records because record companies didn't pay you," he said.
"Nobody got paid. I always wonder if Frank Sinatra got paid.
"Your royalty was so low. If you sold a million records you got a million pennies. It was all very nice, but not what you imagined you were going to get."
However things changed as musicians became more adept at controlling their creations.
This came at about the time the Stones hit what many see as their peak, which included the 1972 release of the critically acclaimed Exile on Main Street.
Later the boom in music sales through the development of the compact disc bolstered the earnings of those on lucrative royalty deals.
"There was a small period from 1970 to 1997 where people did get paid and they got paid very handsomely," Sir Mick said.
"They did make money but now that period's done. If you look at the history of recorded music from, say, 1900 to now, there was that period where artists did very well but the rest of the time they didn't."
A quick glance at this year's Sunday Times UK Music Rich List confirms the thinking.
All the artists in the Top 20 were prominent in the 1970s or 1980s and include Sir Paul McCartney, Ringo Starr and the family of fellow Beatle George Harrison.
Also on the list are Sir Elton John, Sir Tom Jones, Eric Clapton and Robin and Barry Gibb of the Bee Gees. Sir Mick's fellow Rolling Stone Keith Richards also makes the cut with £175m.
The rest are not performers but those in the wider music industry, ranging from Sir Andrew Lloyd Weber and Sir Cameron McIntosh - who made their fortunes on Broadway and in the West End - to the music management moguls of Simon Cowell and Simon Fuller.
And the list is topped by record company executives Edgar Bronfman and Clive Calder.
Before recorded music, incomes depended largely on the whim of patrons - meaning even Mozart and Schubert died destitute.
And in the first half-century of recorded music, rip-offs and uncertain copyright rules meant some of the great blues artists died with barely a penny in their pockets.
Most of today's musicians also have it tough - with the development of the internet in particular blamed as many choose to download almost any song or album they like, for free.
And while there has been some success in selling legal downloads, many industry figures say the technology has also opened up many more opportunities, forcing artists to become more creative about how they make money.
Brian Message co-manages, among others, Radiohead and Kate Nash, but said that in many ways, "music manager" was a term which belonged in the pre-internet days.
"We tend to treat each of our artists as their own little individual global business, with multiple revenue streams and multiple territories," he added, saying the internet allowed it to access about 200 markets and cheaply be able to sell music digitally.
"It's a question of how do you grow that business. The mix of recorded music to ticket sales or merchandise or signed photos or whatever. And we don't differentiate."
Today, those ticket sales for concerts are the primary way for musicians to make money.
But getting a plum slot at one of the larger music festivals is potentially more lucrative, said booking agent Nick Matthews, whose clients include urban pop artist Chipmunk.
Over a pint of cider at this year's Glastonbury Festival, Mr Matthews said that such big events were "the crown jewels of the live music business every summer".
"A really good set time or good slot proves you are one of the top calibre artists of that time, it's something agents and artists very tactically work towards, making sure they have a good presence at festivals," he added.
But is it all about the marketing potential of such events, or rather the fees artists can command to play?
It depends, argued Mr Matthews, on the stage of a performer's career.
"If you have someone who isn't a household name yet, putting them on a big stage at a festival really does promote them to a new audience and allow them to recruit new fans.
"The money comes into it when you are a headliner one of the really valuable artists that's actually selling tickets for a festival.
"That's when you're really paid handsomely and you'll be paid much more than you could be for any arena or venue-style show."
Of course all this supposes that making money is the most important thing to a musician.
UK band I Blame Coco is set to release its debut album later this year.
And lead singer Coco Sumner is all too aware of the trappings that a successful career can bring, as the daughter of Gordon Sumner, better known as Sting of 1980s group The Police.
She agreed changes in the music industry meant her band was likely to depend more on live music to make money but said this was not their main focus.
"It's more about getting new fans," she told the BBC, after playing one of Glastonbury's smaller stages at the un-rock n' roll time of 11am.
"For me it's more about the music and people listening to new music."
All of which is perhaps just as well, given that even fairly successful musicians find making money difficult.
Mika has had hits on both sides of the Atlantic, but said this had not translated into fabulous wealth.
"Of course you make money sometimes, and the money comes in bursts," he told the BBC.
"You have no money forever then suddenly, if you do well, you have a chunk of money that lands. Then no money comes for a couple of months or couple of years."
It is a sentiment heard all too often by Horace Trubridge assistant general secretary of the UK's Musicians' Union, who argued that nobody ever became a musician to make money.
"You do it because you love it and it's what you want to do," he added.
"But you need good musicians to create the music we all love and unless they are not rewarded, unless they can't pay the bills, they'll drift out of it."
It may be a worrying prospect.
However with the Rolling Stones saying another tour next year is "very likely", there seems little chance of Sir Mick and company drifting away from the spotlight just yet.
Related Internet Links
The BBC is not responsible for the content of external sites.