Cameron says agency scrapped because it 'didn't work'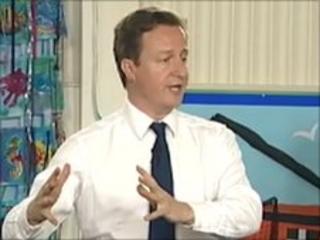 The South West Regional Development Agency (RDA) is being scrapped because it "didn't work", Prime Minister David Cameron has told people in Cornwall.
He was responding to a question from a member of the public at a "PM Direct" event in the county.
Mr Cameron said businesses and Cornwall Council should have a Local Enterprise Partnership which would know local needs better than a regional body.
Mr Cameron visited Truro and two schools in Newquay during his visit.
Disparities 'worse'
The South West RDA, which employs about 350 people, is responsible for distributing £230m of European Union funds across the region between 2009 and 2011.
It runs big schemes such as the Wave Hub energy project off the Cornish coast.
Answering the question about the agencies being scrapped during the event at Trenance Infants School in Newquay, Mr Cameron said: "I think that the regional development agencies didn't work and I think that regional policy didn't work.
"Why I am so confident of saying that is that the fact is that, over the last decade, regional disparities have got worse. I think in Cornwall you felt that as well.
"We're saying local business leaders and local councils can come together and say 'this is how we'd like to do it'."
He added that such a local partnership would be better than "having someone in Bristol or Taunton deciding".
Mr Cameron began his visit to Cornwall by meeting business leaders, public sector representatives and voluntary sector workers in Truro where he discussed issues facing the local community. He then travelled to Newquay.