Man who murdered housemate with sword jailed for life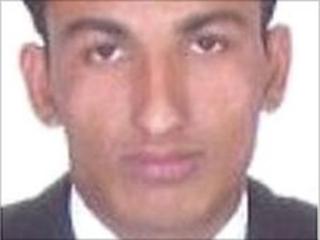 A 23-year-old man has been jailed for life after being convicted of murdering his housemate with a sword in Slough.
The body of Virnderpal Singh, 20, of Canterbury Avenue, was found off Cumberland Avenue on 3 April 2009.
Police said a sword was found near him and post-mortem tests showed he died from multiple injuries. "It was a particularly brutal attack," they said.
Manpreet Singh Chahal, also of Canterbury Avenue, was ordered to serve a minimum of 22 years.
Mother's sorrow
Mr Singh had shared a room at a rented flat in Canterbury Avenue with Chahal, who was later arrested on suspicion of murder in West Bromwich on 9 April.
Following the sentencing at Reading Crown Court on Friday, Mr Singh's mother said in a statement: "Being a mother [who] out lives her young son is a great loss, too unbearable to express in words.
"Enduring this devastating blow, myself and my daughter still have to come to terms with the incredible, shattering loss of younger brother, Gopi.
"Gopi was undoubtedly a loving caring, considerate person who had unknowingly befriended a murderer."
Det Insp Phil Murphy, from Thames Valley Police major crime unit, said: "This was a particularly brutal assault in which the victim suffered over 100 different injuries.
"Formal identification was only possible using DNA, which was obtained from Gopi's mum.
"Chahal has shown no remorse for his actions and instead chose to try and implicate other people in the offence."
He added that the police were "satisfied that the sentence reflects these issues and our thoughts remain with Gopi's family as they seek to rebuild their lives."