What will happen to the children of the Russian agents?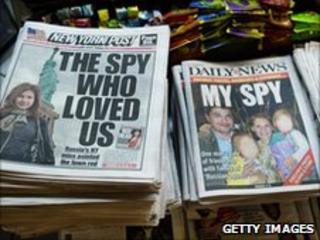 The ten agents who admitted gathering intelligence for Russia have arrived back in Moscow after being deported from the US, but what is the fate of their American-born children?
Coming home from a slumber party to discover that your parents are at the heart of an international spying scandal sounds like a plot of a summer action film.
But for one 11-year-old girl, last week it was real life.
The girl is one of six children, under the age of 18, born to the 10 Russian spies who were swiftly deported from the US yesterday, just hours after pleading guilty in court.
The youngest child is just one year old. There are also two adult children, aged 20 and 38.
Authorities remained tight-lipped on the fate of these American-born children, except to say they will be free to come and go from the US as they see fit.
A lawyer for Peruvian born spy Vicky Pelaez says her 17-year-old son intends to stay in New York.
He is the child from Pelaez's marriage to Russian agent Mikhail Vasenkov and will probably live with her 38-year-old son from a previous marriage.
He is reportedly a talented pianist, and may chose to join his mother at her family ranch in Peru, where she has indicated she will settle.
Interrupted youth
The Boston Globe reported that the children of the Russians posing as Donald Heathfield and Tracey Foley - the couple who lived in Cambridge, Massachusetts - had left for Russia earlier this week.
Tim Foley, 20, is a student at George Washington University in Washington DC. His brother, 16, is at school at Boston and is still a minor under US law.
The two boys were seen in a Boston court when their parents were arraigned, but they refrained from speaking to reporters.
The spies posing as Michael Zottoli and Patricia Mills were raising a one and three-year old in their home in the Virginia suburb of Arlington, just outside of DC.
The children were initially placed in the care of social services because the FBI did not have sufficient time to conduct background checks on family friends.
The couple have since contacted friends in the US, who have arranged with relatives in Russia for the children to return there.
It's not yet clear what will happen to the 11-year-old daughter of "Richard and Cynthia Murphy", real names Vladimir and Lydia Guryev, and her seven-year-old sister.
But it's certain that their suburban American lives have been forever interrupted.
Living a lie
Robert Meeropol, Executive Director of the Rosenberg Fund for Children, says he identifies with their plight.
Mr Meeropol is the son of Ethel and Julius Rosenberg, who were arrested and charged with giving Russia secret information about the atomic bomb when he was just three years old.
The Rosenbergs were executed by electric chair for conspiracy to commit espionage in 1953. Mr Meeropol was just six and his brother Michael was 10.
"If you can create a stable environment for children with supportive adults, it's better. I went from place to place," Mr Meeropol told BBC's Newshour programme.
Mr Meeropol's relatives were wary of taking him in, worried about being implicated in the conspiracy.
He was eventually adopted and changed his name so he could try to live a normal life.
As an adult, Mr Meeropol has tried to draw attention to discrepancies in his parent's trial. He maintains his mother's innocence but admits his father was probably involved in espionage unrelated to the bomb.
Mr Meeropol, whose Rosenberg Fund works to support children of targeted activists in the US, thinks it's important for the children to stay out of the spotlight.
"I would go visit my parents at Sing Sing prison and there would be a media circus each time and I remember really hating that," he said.
He worries that the children of these Russian spies will have a difficult time adjusting to a foreign country, and in most cases, a foreign language.
But with the Cold War over, "I don't think they're going to face the kind of notoriety we had."
That said, there's no telling how deep the scars will run.
"If you grow up living a lie, sooner or later it comes back to haunt you," he said.
Listen to Robert Meeropol's interview on BBC's Newshour.