Pfizer manager and husband jailed over fraud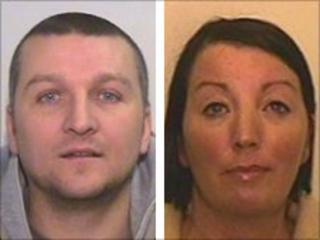 A pharmaceutical company manager, who used her position to fraudulently fund her husband's failed business, has been jailed alongside him.
Carol Jones, 44, a manager at Pfizer in Manchester used a firm's credit card to fund luxuries for herself and Jonathan Jones, Manchester Crown Court heard.
The couple also devised a scheme where Pfizer paid his defunct landscaping business £150,000 for often bogus work.
The pair of Upton Close, Winsford, were jailed for 16 months and 19 months.
Each was found guilty of eight offences of false accounting.
Mrs Jones was also convicted of two counts of fraud and two counts of theft, while Mr Jones, 39, who was given the longer sentence, was also found guilty of insolvency act offences.
After the sentencing police said that the office manager used her position of trust to siphon money off Wythenshawe-based Pfizer to keep her husband's company afloat, while also "lining her own pockets to keep up their luxury lifestyle".
Officers said she used her company credit card to buy two expensive holidays, gym memberships, a new kitchen and a £3,250 wedding reception at Peckforton Castle, Cheshire.
The offences began in January 2006 when Mrs Jones gained access to Pfizer's new regional business director's e-mail account, which coincided with the folding of her husband's company, TIL Developments Ltd, said police.
When he failed to pay back debts to creditors of £120,000, his wife manipulated Pfizer's procurement system to ensure his company became a preferred supplier.
Police said that she helped her husband put through inflated or bogus invoices for work.
'Prison cells'
Their offending came to an end when Mrs Jones' boss realised some of the work paid for had not been carried out.
Det Con Neil Slater said: "Their grasping desperation to make as much money as possible knew no bounds.
"They had a certain lifestyle that they felt they couldn't do without.
"Unlike most people - especially in these difficult economic times - who have to cut their cloth accordingly, Carol chose to leech off her employers.
"This wasn't so much keeping up with the Jones' - it was more like the Jones' trying to keep up with everyone else.
"They can now both reflect on their crimes from the less luxurious surroundings of their prison cells."