Aberporth beach water warning after sewage leak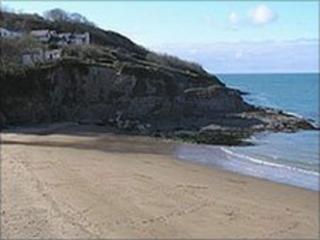 Swimmers are advised to stay out of the sea at a Ceredigion beach following a sewage leak.
Environment Agency Wales officers are investigating after sewage spilled into a stream which flows onto Aberporth beach.
Signs will be erected by Ceredigion council to advise people to avoid the water.
Early inquiries suggest the spill was caused by a private sewer.
A spokesperson from Environment Agency Wales said: "As Aberporth beach is a designated bathing water it is vital that action is taken as quickly as possible to minimise the effect of this on the bathing water quality.
"It is a fantastic part of our coastline here in Ceredigion.
"We want to make sure everything is done to keep the beach a safe place for people to visit."
Agency officers are monitoring the water quality within the stream and at the beach.
Specialist contractors are heading to the scene to carry out "emergency works to fix the problem".