Firm to run Devon and Cornwall ferry for five years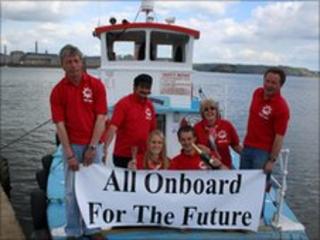 A ferry company which faced losing a service linking Devon and Cornwall is to keep the route for another five years, it has said.
Tamar Cruising has run the Cremyll Ferry from Plymouth to Mount Edgcumbe for 25 years.
It nearly lost its licence after a tendering process in 2009, but said that it "competed in a tough contest to win the contract".
The crossing is thought to have originated in Saxon times.
The family-run business, which has operated the route across the River Tamar since 1985, had tendered for the renewal of its contract last year but lost to another company.
However, that decision was stopped after Plymouth City Council and Cornwall Council said their lawyers wanted to "be absolutely sure that our tender processes comply fully with EU and UK law".
Tamar Cruising carried on the route while a new tendering process was set up and it won after its new bid was chosen by the Mount Edgcumbe Joint Committee, made up of councillors from both councils.
Jean Knight, from the company, said: "We are delighted to have won the contract to continue providing the Cremyll ferry service.
"Having operated this crossing for 25 years, we know the importance of running a safe and reliable service for the hundreds of regular commuters, day trippers and tourists that enjoy this trip each week."
The crossing was first documented in 1204.