S Korean prosecutors raids prime minister's office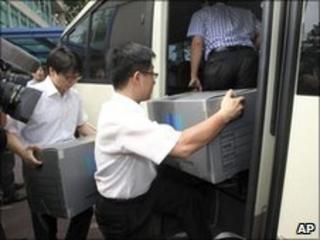 State prosecutors in South Korea have raided the offices of one of the prime minister's senior officials.
Investigators seized computer drives and other documents.
It is part of an investigation into allegations that government officials spied on a businessman who had been critical of the South Korean president.
They raided the Office for Ethical Support of Public Officials, set up to look into the activities of government officials suspected of corruption.
The allegation is that in 2008, officials in this division launched a probe into a private businessman after he posted a critical video of the President Lee Myung-bak on the internet.
The role of the prime minister and his office is to assist the president, supervise ministries and co-ordinate policies.
This is the first time a department under the prime minister has come under scrutiny by state prosecutors over allegations that are not part of its mandate - spying on ordinary citizens.
Since taking office more than two years ago, President Lee, a former construction company boss nicknamed "the bulldozer", has faced fierce opposition over controversial policies, including a national construction project to enhance water flow of the country's four main rivers.
Critics say that it could create an environmental disaster.
On Thursday, the presidential office appointed a new chief of staff with a view to improving relations with the public through better explanation of government policy.