Golf club attack brothers jailed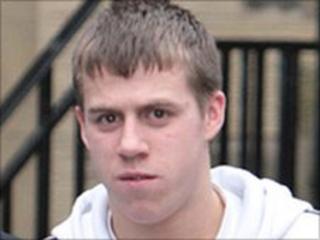 Two brothers who attacked a man with a golf club have been jailed despite a plea for leniency from their victim.
Daniel Crowe's cheek was rebuilt using bone from his skull after the attack by his cousins Richard and Hugh Mullen, in Blairgowrie, Perthshire, in March.
The pair were found guilty of attempted murder at the High Court in Edinburgh.
Mr Crowe, 23, wrote a letter calling for a lighter sentence, but Richard Mullen, 19, was detained for six years. Hugh Mullen, 27, was jailed for eight.
Richard Mullen, who earned the nickname "superned" because of a one-man crime wave in his home town of Blairgowrie which led to 50 court appearances in one year, was previously banned by the courts from contacting his family.
'Went downhill'
However, the ban had been relaxed by 13 March 2009, when the brothers launched their golf club attack in the town's Myrtle Park.
Mr Crowe told the trial he had been drinking with friends when he answered a knock on the door and was immediately set upon by the Mullen brothers.
Defence QC Jock Thomson referred to Hugh Mullen's criminal record - going back to his appearance in the dock at the age of 14.
"A bad start on any view and it went downhill thereafter," he said.
He said his client had previously served a three-and-a-half year sentence in July 2004 for attacking a disabled French Foreign Legion veteran, who was later found dead in his Blairgowrie home.
'Public duty'
Defence advocate Adrian Tonner, for Richard Mullen, said although the 19-year-old had a long record, most of the offences were minor and that he had only served one 60-day sentence.
His record included vandalising cars, shooting at a bus full of children with a paintball gun, threatening to firebomb a policeman's home and menacing a disabled woman and her elderly parents.
Sentencing, Lord Kinclaven said because the brothers represented a danger to the public he would make an order extending the period spent on licence after their release - for three years in the case of Hugh Mullen and two years for his brother.
Lord Kinclaven also revealed that he had received a letter from Mr Crowe calling for leniency.
The judge said he had "exercised as much leniency as is consistent with my public duty".