Rescued Scottish salmon company rebranded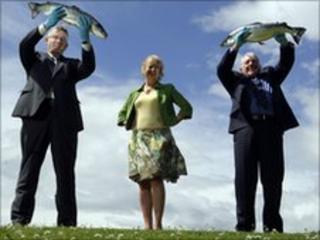 A fish farming company saved from the brink of collapse in 2008 has changed its name.
Lighthouse Caledonia, which has its headquarters in Edinburgh and farms across west Scotland, has become The Scottish Salmon Company.
The company was rescued by an investment deal worth £17m. It went on to report a record set of profits.
Environment Minister Roseanna Cunningham has supported the firm's decision to be rebranded.
She said aquaculture was an important asset to Scotland's rural economy.
"Primary salmon production each year generates more than £35m in local wages primarily in the Highlands, Shetland, Argyll and Bute, Western Isles and Orkney," she said.
"I launched the government's Fresh Start Framework last year to tackle a number of issues facing the industry and to help create a sustainable way forward.
"Better marketing of farmed fish, along with measures to manage planning and development and encourage training and development, are all part of Scotland's aquaculture future."