Thirty at protest in Cardiff against 'anti-Islam laws'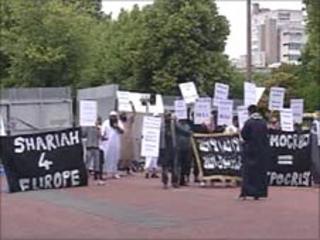 Around 30 people gathered to demonstrate against what they describe as "anti-Islamic" laws in Europe.
The protest, organised by Wales-based Islamic organisation Ummah of Muhammad, aimed to highlight an "ideological attack" on Islam.
Last year Switzerland voted to ban the building of new minarets, while France is debating a ban on the Islamic veil.
Organisers leafleted mosques to rally support and had hoped to attract people from across south Wales.
Organiser Muhammad Abu Yaffir said: "Wherever Muslims feel pain anywhere in the world it is our responsibility to respond to their needs.
"The laws being proposed are a form of oppression and we will respond to this oppression."
As well as law reform in Switzerland and France, Belgium's lower house of parliament voted for a law that would ban women from wearing the full Islamic face veil in public earlier this year.
Barcelona is the first large Spanish city to announce a ban on the wearing of full Islamic face veils in some public spaces.
According to the 2001 Census there were approximately 22,000 muslims living in Wales.