Aberdeen man guilty of baby murder attempt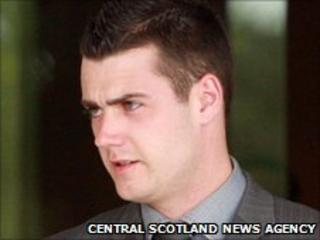 An Aberdeen man has been found guilty of attempting to murder a six-week-old baby.
Raymond McPhee had denied assaulting a boy he was looking after at a flat in the city in August 2008, leaving him with permanent brain damage.
But a jury at the High Court in Livingston found the 24-year-old guilty of attempted murder.
The judge, Lord Uist, described it as a heinous crime and McPhee was remanded in custody until sentencing next month.
The court had heard McPhee was left to babysit when the child's mother went on her first night out since giving birth.
'Complete indifference'
When the baby would not settle, McPhee first tried to drown out his cries by playing music at full volume.
Later he pinched him and shook him so hard the child was left with permanent brain injuries.
The next morning the mother, who cannot be identified for legal reasons, found her baby "floppy" and rushed him to the Royal Aberdeen's Children's Hospital, where he had repeated fits. He had also suffered a broken rib in the attack.
Alison Di Rollo, prosecuting, said McPhee had shaken the baby "to within an inch of his life" and he showed "complete indifference" about whether the child lived or died.
When the jury's majority verdict was delivered McPhee bowed his head and appeared to wipe away tears.
Addressing the jury, Lord Uist described it as an extremely sad and distressing case and he excused them from ever again serving on a jury.
'Wicked recklessness'
Speaking after the verdict, procurator fiscal for Grampian, Anne Currie, described it a "cruel and callous attack" on a defenceless six-week-old baby.
"The baby suffered a number of injuries at the hands of Raymond McPhee, who was looking after him at the time," she said.
"Prior to this, the child had been a healthy baby boy. He has now suffered permanent brain damage and will experience a number of difficulties throughout his life due to this impairment.
"Raymond McPhee's actions showed such wicked recklessness towards the child that a charge of attempted murder was appropriate, a view clearly reflected in the jury's verdict."