Edinburgh drug trafficker faces jail term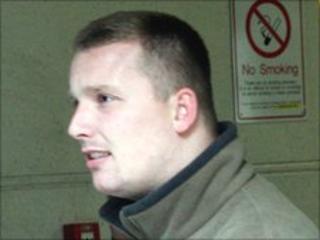 A drug trafficker is facing a jail term after being caught making crack cocaine worth £700,000 in a house in Edinburgh.
Mark Richardson, 23, was so busy making the class A drug that he failed to notice police entering the room in which he was working.
At the High Court in Edinburgh he pleaded guilty to supplying the Class A drug between April and December 2009.
Dylan McCallum, 25, a prisoner, and Gary Orr, 27, from Cumbernauld, also admitted committing drugs offences.
Sentence was deferred and all three men were held in custody.
The court heard that Richardson had played "a significant role in the organised crime group" and directed the actions of others.
Richardson was previously jailed for 32 months for a similar offence which also led to the imprisonment of his father, Mark senior, 44, for four and a half years.
Advocate depute Keith Stewart, prosecuting, told the court that on 9 December last year police went to carry out a search on a house in Ferniehill Road, Edinburgh, as part of a drugs investigation.
They found the front door unlocked and were able to see Richardson and a co-accused McCallum in the kitchen.
Mr Stewart said: "They were busy working in the kitchen. They were not preparing food."
Richardson was pushing a substance through a colander and his accomplice was breaking up blocks of materiel with his hands, as a large pot boiled on the stove.
The prosecutor said: "So absorbed were Richardson and McCallum in their task, that the police officers were able to enter the kitchen without disturbing them. The officers then detained them.
"On the kitchen floor they found containers lying open, containing a white powder, which they took to be cocaine salt.
"This powder was also seen on the worktops in the kitchen and on cooking vessels and utensils," he said.
Ski centre
Mr Stewart said the pair were involved in converting cocaine salt into its base form, known as crack cocaine.
Almost 4.5kg of the cocaine found in the flat was in salt form and 3.5kg was crack cocaine.
The prosecutor said the arrests followed an undercover operation by Lothian and Borders Police directed against an organised crime group supplying drugs on the south side of Edinburgh.
He said a total of 17.01kg of cocaine was found.
Orr was acting as a courier for a 3kg load of cocaine worth up to £120,000, brought from Glasgow to Edinburgh.
Police learned that a transaction for its purchase to take place in the area of the Hillend ski centre at Edinburgh.