Iraq inquiry: Tony Blair under the spotlight again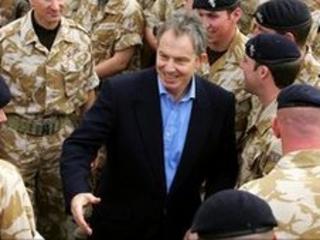 The level of public interest in the Iraq Inquiry is guaranteed to rise a notch or two when certain subjects are raised.
These are the three triggers: Tony Blair, the welfare of Britain's armed forces and the declassification of government documents.
All were in abundance during this week's proceedings.
Mr Blair came in for strong criticism from Sir Richard Dalton, a former British ambassador to Iran.
Giving evidence to the inquiry, Sir Richard said Mr Blair had misread the threat posed by Iran in 2003 and exaggerated Iran's support for al-Qaeda.
When Tony Blair testified in January, he made no apology for his hard line on Iran.
"We cannot afford the possibility that nations, particularly nations that are brutal, rogue states, states that take an attitude that is wholly contrary to our way of life, you cannot afford such states to be allowed to develop or proliferate WMD", he said.
'Downing Street war'
The change of government in Britain since the general election in May has defused some of the political intensity surrounding the Iraq Inquiry during the winter months.
But Mr Blair remains the central figure in this saga. No-one is ruling out the possibility that he may be recalled at a later stage to clarify aspects of his evidence in the light of what other witnesses have told the inquiry.
When the Iraq inquiry began its work last year, a priority for Sir John Chilcot's committee was to spend some time with families of those killed or missing in Iraq.
This week, welfare issues came to the fore with the appearance of Bob Ainsworth who was Defence Secretary until the election in May this year.
However, it was primarily in his role as Minister for the Armed Forces from 2007-09, that Mr Ainsworth faced questioning.
He openly acknowledged that some families of soldiers killed in Iraq had been let down by the Ministry of Defence.
"I have met lots of bereaved families. In some cases, almost no matter what you do, you cannot make things better; anger is a part of bereavement.
"You just have to accept that and try not to make the situation worse. But there were areas that we were not getting right".
He highlighted the delays that occurred with inquests, and also the way in which visits to bereaved families by MOD support officers had been mishandled.
"There are some horror stories about how people have actually been dealt with at an individual level," Mr Ainsworth added.
Iraq 2003 was "a Downing Street war", not "a Whitehall war", according to one witness this week.
Blair 'cursory'
Andy Bearpark was Britain's man inside the US-led Coalition Provisional Authority, headed by the American, Paul Bremer.
"The more junior parts of the British government machine just wanted to forget all about it. So issues that one might have thought in different circumstances would have been high up the Ministry of Defence's or the Foreign Office's or even DFID's agenda, we didn't get the sense that they were high up on that agenda", Mr Bearpark said.
He added that when he was first deployed to Baghdad, he was "the favoured son for at least 24 hours".
Everyone in Whitehall had wanted to meet him.
Three months later, when he returned to London, it was a different story.
"When I came back for debriefings, I'd find it hard pressed to find anybody who could really care".
The start of the week produced a double whammy - newly declassified papers that also put Tony Blair under the spotlight.
It was revealed that the former minister for international development (DfID), Sally Keeble, wrote to Mr Blair in June 2003, shortly after the war, expressing serious misgivings about DfID's performance in dealing with the humanitarian consequences of the action in Iraq.
Ms Keeble told Mr Blair that some of the consequences of the decisions taken by the secretary of state, Clare Short, had been "disastrous".
When Mr Blair wrote back to her in July, she told her he would be "keeping an eye on things" and "hoped it would now be sorted out".
In her evidence to the Iraq Inquiry, Sally Keeble said she had found Mr Blair's response to be "quite cursory".
It has now been announced that the Iraq inquiry has taken evidence from 35 witnesses in private, among them two former heads of MI6, Sir Richard Dearlove and Sir John Scarlett.
Six of the 35 individuals work for the Secret Intelligence Service and have not been named.
Sir John Chilcot has always insisted that the Committee wants to hold as many of its hearings in public as possible.
However, he explained that these secret hearings had provided valuable evidence that "could not have been heard in public session without damaging national security or international relations".