Gunman hunt: police recover Raoul Moat's mobile phones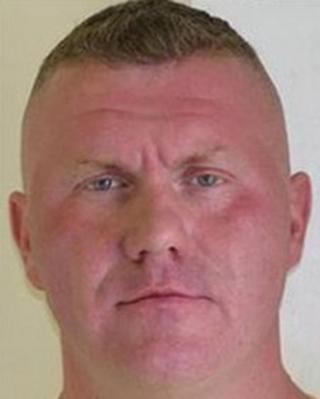 Three mobile phones used by fugitive gunman Raoul Moat have been recovered by police.
One was handed in by a member of the public in Rothbury, Northumberland, and two were found by police.
Moat, 37, is wanted over the shooting of his ex-girlfriend, her new partner - who was killed - and a police officer.
Armed police have set up a cordon around the Cragside Estate in Rothbury and an RAF Tornado has resumed working over the search scene.
The aircraft initially joined the search on Thursday.
A further two people, a man and a woman, were arrested in Blyth on Thursday on suspicion of assisting an offender.
Det Ch Supt Neil Adamson, of Northumbria Police, said there had been some "very positive developments" over the past 24 hours.
Armed perimeter
"I am certain that these phones were all used by Mr Moat," he said.
The first mobile phone was found in Birtley - where Moat is alleged to have shot his former girlfriend Samantha Stobbart, 22, and killed her new partner Chris Brown, 29 - in the early hours of Saturday.
The second, used to make two 999 calls to police before and after Pc David Rathband was shot on Sunday, was discovered in an undisclosed location.
Police would not say where or when it was found.
A third phone used by Moat was recovered on Thursday by a member of the public walking in countryside around Rothbury.
It had not been used by the gunman since Tuesday, police said.
The BBC's Danny Savage said police had set up an armed perimeter around the Cragside estate.
Police dogs and officers are positioned every few hundred metres on roads and land around the National Trust property.
A low-flying police helicopter could also be seen.
Insp Ken Crossley, search adviser for Northumbria Police, said about 100 officers were carrying out the search for Moat.
'Good progress'
"It is complicated and it is going to take time - we are dealing with a man who is desperately trying to evade capture," he said.
"We have a number of assets, including dogs, air support and technical support to assist with the search.
"We are making good progress but things are hampered by the fact that we have dense woodland and caves and are looking for a man who is potentially armed and who does not want to be found.
"I understand the complications and the depth of the terrain we have to search, but I am satisfied that this systematic search is as good as it can be at this time.
"We will continue to search as long as possible and I am satisfied with the methods we are using."
A statement on the National Trust's website said: "Cragside House, Gardens and Estate will close today after police advice to people in the Rothbury area not to undertake any unnecessary leisure activity.
"We will continue to remain in contact with the police to monitor the situation and take advice on operations over the coming days."
During a neighbourhood policing meeting, children passed on messages of support to those involved in the search.
The cards and drawings included get well messages for injured Pc David Rathband.
Two men arrested on suspicion of assisting an offender in the Rothbury area on Wednesday have been released on bail pending further inquiries.
Police said the man and woman arrested on Thursday in Blyth were being questioned.
Meanwhile, two other men, Karl Ness, 26, from Dudley in North Tyneside, and Qhuram Awan, 23, from Blyth in Northumberland, appeared before magistrates in Newcastle on Thursday accused of joining Moat on a hunt for policemen to shoot. They were remanded in custody.
Police believe Mr Ness and Mr Awan were with Moat when he shot Pc Rathband. But lawyers for the pair deny their clients were involved.