Maesteg firm's 69 aerospace jobs 'under threat'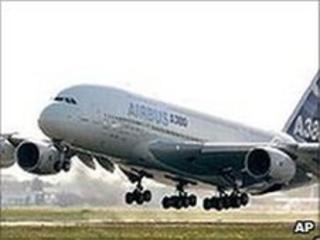 A company which makes aviation components is to begin talks over plans to relocate from south Wales to Essex.
Gardner Aerospace, at Maesteg, in Bridgend county, will consult its 69 staff and other stakeholders over plans to relocate to Basildon.
Chief executive officer Patrick Grady said the move arose "as a result of the impact of the economic downturn."
The Welsh Assembly Government said it would see if there was a breach of the terms of funds it had given the firm.
Mr Grady said the firm's formal consultations over the decision would last for a 30-day period and the proposed transfer was likely to take around 12 months.
He said the move followed an extensive review into the group's "manufacturing footprint" in the UK.
He added: "We sincerely regret the impact that this decision will have on our employees, their families and the community.
"Our efforts will be focused on supporting all employees through this process. It is our intention to start consultations immediately."
Gardner is the UK's largest independently-owned supplier of metallic aerospace components, and is one of the largest in Europe.
The Welsh Assembly Government said Gardner's annoucement was a "devastating blow to Maesteg and the surrounding area".
A spokesperson said: "We will be writing to the company's president expressing concern at the decision and seeking urgent meetings to explore alternative options for the company.
"The assembly government has provided financial assistance to Gardner Aerospace in the past to safeguard jobs.
'Retain skills'
"If the closure goes ahead, we will examine if there has been a breach in the terms and conditions of the support as there could be scope to recover some of the funds."
Ogmore AM Janice Gregory said she did not think many of the staff would take up an option of moving with the firm to Essex, if they were offered it.
She said: "These are people who have in the main grown up in this wonderful community.
"They have families there, they have children there. Their children have grown up there, would they want to relocate to Essex? I would think not, to be honest.
"We really do need to retain these skills in Wales. These are very highly skilled workers."
Gardner's headquarters are in Ilkeston, Derbyshire, and it has five manufacturing sites in the UK and one in Poland.
Aviation
The firm's customers include Airbus, Rolls-Royce, GKN, BAe Systems and other major international companies in the aviation sector.
In May up to 100 jobs were saved after Gardner bought out of administration a Flintshire aerospace engineering company.
Queensferry-based RD Precision and its Polish subsidiary was bought out in a deal said to be worth £1.14m.