West Midlands Police arrests over Birmingham shootings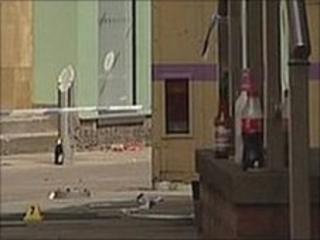 Police have arrested 15 people in connection with a spate of shootings in Birmingham.
One of those detained and later bailed was a 23-year-old man wanted in connection with the shooting of four people at an urban music event at the Custard Factory in Digbeth.
The other arrests came after 11 firearms incidents in the past two months.
Four of those arrested were charged, while nine firearms were seized.
Changing culture
Det Chief Insp Simon Wallis, from Birmingham West and Central Police, dismissed speculation the incidents were all gang-related.
He said: "The vast majority of the incidents have centred around disputes between individuals and are not gang-related.
"There may be some incidents where we have to keep an open mind, but the majority of cases we can say are not linked to gangs but are due to individuals falling out and reacting disproportionately."
Chief Supt Chris McKeogh, commander for Birmingham West and Central, said the recent spate occurred despite an overall 21% drop in gun crime since 2007.
He added: "I am absolutely confident we do not have a guns and gangs issue and that the trend is still going in the right direction.
"Enforcement is strong as the arrests show, but we are definitely not on the edge of chaos, anarchy or Armageddon. It is business as usual, but at the upper end of it."
Police working with the Birmingham Reducing Gang Violence partnership said the face of the city's gang culture was changing.
Supt Sue Southern said: "Many of the former gang members are now either in prison or the subject of extremely rigorous monitoring.
"There are different types of gangs emerging to fill the vacuum, but much depends on your definition of a gang."