Haiti earthquake appeal raises second highest amount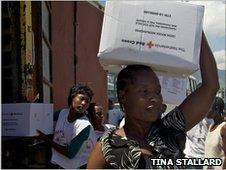 An appeal to help those affected by the earthquake in Haiti has raised the second highest amount in the Disasters Emergency Committee's history.
The DEC has raised £101m since the earthquake on 12 January. Only the 2004 tsunami prompted a bigger response from the British public.
So far, £30m has been spent on providing emergency assistance to 1.2m people.
The DEC's Brendan Gormley said "a long and painful journey" still lay ahead.
The plea for funds began immediately after the earthquake, which left 220,000 dead. The quake also left more than 180,000 homes damaged or destroyed, with 1.5 million people made homeless.
The £101m ($152m) total at the six-month point is surpassed only by the DEC appeal following the Boxing Day tsunami of 2004, which raised £390m ($587m) in the same period.
The appeal for the victims of the earthquake in Kashmir in 2005 raised £60m ($90m) in its first six months of operation.
The largest share of the money spent to date in Haiti has gone on water and sanitation (28%), emergency shelter (22%), support for livelihoods (16%) and household items including soap, mosquito nets and water containers (14%).
The DEC Haiti Appeal will close at the end of this month, and its funds will be spent over three years in total, rather than the usual two.
But many charities will stay on beyond that period, drawing on funds from other sources, the DEC said.
Mr Gormley, the DEC's chief executive, also said that providing shelter in a city "choked with millions of tons of rubble is proving enormously difficult".
He added: "In 35 years of humanitarian work I have never seen such a challenge confronting survivors of a natural disaster and the DEC agencies which are trying to help them.
"Shockingly, our provision of emergency latrines and clean water means that many people now have better water and sanitation services than before the quake.
"One measure of our achievement is that there has been no major outbreak of potentially deadly diseases such as measles, cholera or diarrhoea."
But he warned that there were further challenges ahead for the Haitian population.
"People will need jobs to pay rent on properties that have yet to be repaired or rebuilt, at sites that have yet to be cleared, where the ownership of every scrap of land is likely to be hotly disputed."
The DEC is an umbrella organisation consisting of several aid agencies, including Action Aid, British Red Cross, Care International UK, Christian Aid, and Islamic Relief among others.
Related Internet Links
The BBC is not responsible for the content of external sites.