ICC's first case - DR Congo's Lubanga - is suspended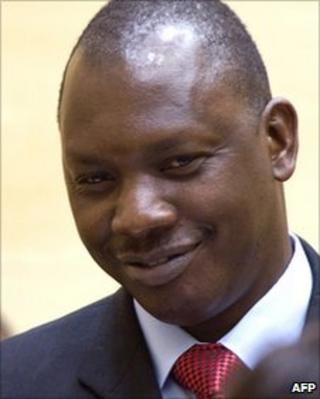 The trial of a former rebel leader from the Democratic Republic of Congo, Thomas Lubanga, has been suspended.
Judges at the International Criminal Court in The Hague said the prosecutor had failed to follow proper procedure by refusing to identify a key witness.
Lorraine Smith of the International Bar Association at The Hague told the BBC the suspension created "a PR nightmare" as it was the ICC's first case.
Mr Lubanga has pleaded not guilty to charges of recruiting child soldiers.
He faces six charges of using hundreds of children aged under 15 to fight in DR Congo's brutal conflict, which officially ended in 2003
'Plagued by challenges'
"In order for the chamber to ensure that the accused receives a fair trial, it is necessary that its orders, decisions and rulings are respected," AP news agency quotes the judges' statement as saying.
The office of the prosecutor - Luis Moreno-Ocampo - said it would appeal the decision, AFP news agency reports.
Ms Smith said the trial of Mr Lubanga, which opened in 2009 after seven-month delay over disputed confidential evidence, has been "plagued by a number of challenges".
The first witness at the trial retracted his testimony after first saying he had been recruited by Mr Lubanga's fighters on his way home from school.
"The defence has been alleging in the Lubanga case that several intermediaries relied on by the office of the prosecutor have assisted, coerced or bribed witnesses in the case to falsify their testimony," Ms Smith told the BBC's Network Africa programme.
"The issue of the credibility of both the witnesses and the intermediaries is the crucial one for the judges in this case to determine," she said.
One of the problems facing the court was that Bunia - the capital of the Ituri region where Mr Lubanga was a rebel leader - was still considered a conflict zone, she said.
Those who "come forward to testify can find that they're at a significant security risk by their courage to come and participate in the trial", she said.
"What the chamber has the difficulty to do is to balance the need to protect those witnesses against the need to ensure the fairness of the proceedings."
Mr Lubanga led the Union of Congolese Patriots (UPC), an ethnic Hema militia - one of six groups that fought for control of the gold-rich Ituri region from 1999 until 2003.
The land struggle turned into an inter-ethnic war in which an estimated 50,000 people were killed and hundreds of thousands were left homeless.