Sibling couple call for change in the law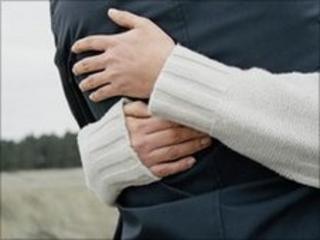 A couple are calling for a change in the law in the Irish Republic after discovering they are half-brother and sister.
They are opposed to a law which allows the identity of a child's father to be withheld if it is thought to be in the child's best interests.
James and Maura (not their real names) have been together for seven years and have a five-year-old son.
In April, a DNA test confirmed they were related.
They met "as two strangers" from different parts of Ireland.
James told BBC Radio 5 live's Victoria Derbyshire: "Everything about her attracted me to her. We agreed on everything."
For Maura, it was "his eyes".
They had a long-distance relationship before settling down together and were delighted when Maura became pregnant. After her son was born, Maura felt it was important for James to contact his estranged mother.
Discovery
James visited his mother at Christmas. When they started talking about Maura, his mother asked him questions about what she did and about her parents.
She seemed very interested in Maura's father and started asking what he looked like, said James.
As the realisation dawned, the expression on her face "was just horrible", he told Victoria Derbyshire.
"She put her hand over her face and said 'You're not serious?'".
His mother then went into her room and James knocked on the door.
"I said 'Mam what's wrong?' She wouldn't answer for a while. She said to stay away from her. I remember sitting by the door…eventually she said 'He's your Dad'."
James broke the news to Maura when he returned home.
Maura said: "At first I didn't want to believe it."
A DNA test confirmed that James and Maura were half-siblings.
Change in law
James' mother later told him the whole story of his childhood. She said James' real father had found out about him when he was four-years-old and had taken legal action to try to get access to him.
The court decided not to grant it and the name on his birth certificate remained that of his mother's husband. He grew up believing that he was his natural father.
James and Maura want the law to be changed so that the natural father's name has to be on the birth certificate. Currently in the Irish Republic, as in the UK, the mother is not obliged to write this in.
James told Victoria Derbyshire: "Anyone can just walk into a registration office and say whatever name they want. I don't want anyone else to experience anything like this because it's horrible."
Family life
James and Maura are still together. They were distant at first, James said, but "it's very hard to try and take away seven years".
Family relationships have been strained. Both Maura's parents know, but others don't. James sees his real dad now, though the couple never meet him together.
They have not told their son.
"We want to tell him when he gets older... but we have to do it in such a way that it doesn't impact him," James said.
The couple are planning to get married and perhaps have another child. James' birth certificate means they are not brother and sister in the eyes of the law.
James said: "If they could turn a blind eye to my birth certificate, they can turn a blind eye to my marriage certificate."
Maura added: "It was always our plan to get married; we won't change our plans to suit these people who created us."
Names have been changed
Victoria Derbyshire can be heard on BBC Radio 5 live from 1000-1200 every weekday.