Sanctuary tags 10,000th sand martin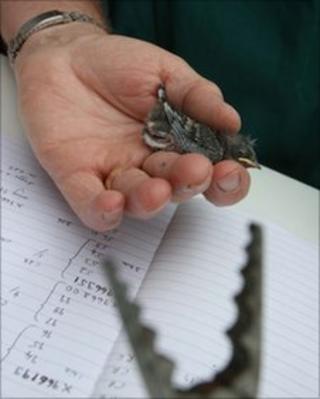 A wildlife sanctuary has reached a major milestone with the tagging of its 10,000th sand martin ahead of their autumn migration to warmer climes.
The project at Applegarthtown near Lochmaben tags birds every year.
It then monitors the return of the birds to the area following their winter trips to Africa.
The sand martins have been recorded in Senegal, and one bird has returned five times clocking up an estimated 60,000 miles.
The sanctuary, which is supported by the Crown Estate, is run by Bobby Smith, who started the tagging project in1994.
His techniques have now been adopted at sites elsewhere in the UK and abroad, helping tackle the worldwide decline in sand martin numbers, in part due to drought in the African wintering grounds.
Mr Smith said: "It's a real pleasure to have reached this milestone, achieved through the hard work of volunteers and staff at the sanctuary, with the support of visitors and the local community.
"It's always satisfying to be able to record birds as they return here in the spring.
"It's a joy to have witnessed thousands of sand martins make Applegarthtown their summer-time home over the years."